Arto Ali-Eskola, Ollila
Arto is an outsider artist and weather prophet. He makes sculptures out of concrete and wooden carvings, both for himself and as custom ordered pieces. He began his artistic career in the 1950's with drawings and had the idea of making art for a living. The career in drawing never took off, however he has had use of his skill in this craft when it comes to estimating proportions and transferring them to a piece.
He created the technique he uses for his sculptures, in the 80's. First, he digs a rough shape into a pile of dirt and fills it with concrete. When it has dried, he lifts it up and adds details by covering the piece in with a fine concrete paste. Using this technique, he has made a sculpture in many different sizes, one of the biggest being a sculpture of an elephant in natural size. This piece was a custom work for a client's new house, later when the house was sold and the elephant moved with the seller, the new owner made a custom order of a sculpture of a dog the size of an elephant. In total Arto makes around 30 sculptures a year, and it takes approximately 1-5 working days to finish one pieces, this not counting the time it takes for the concrete to dry. For smaller pieces the concrete dries in one week and for bigger pieces it takes 4-5 weeks before Arto can start the finishing details. He likes concrete as a material because it is rather cheap and easy to work with.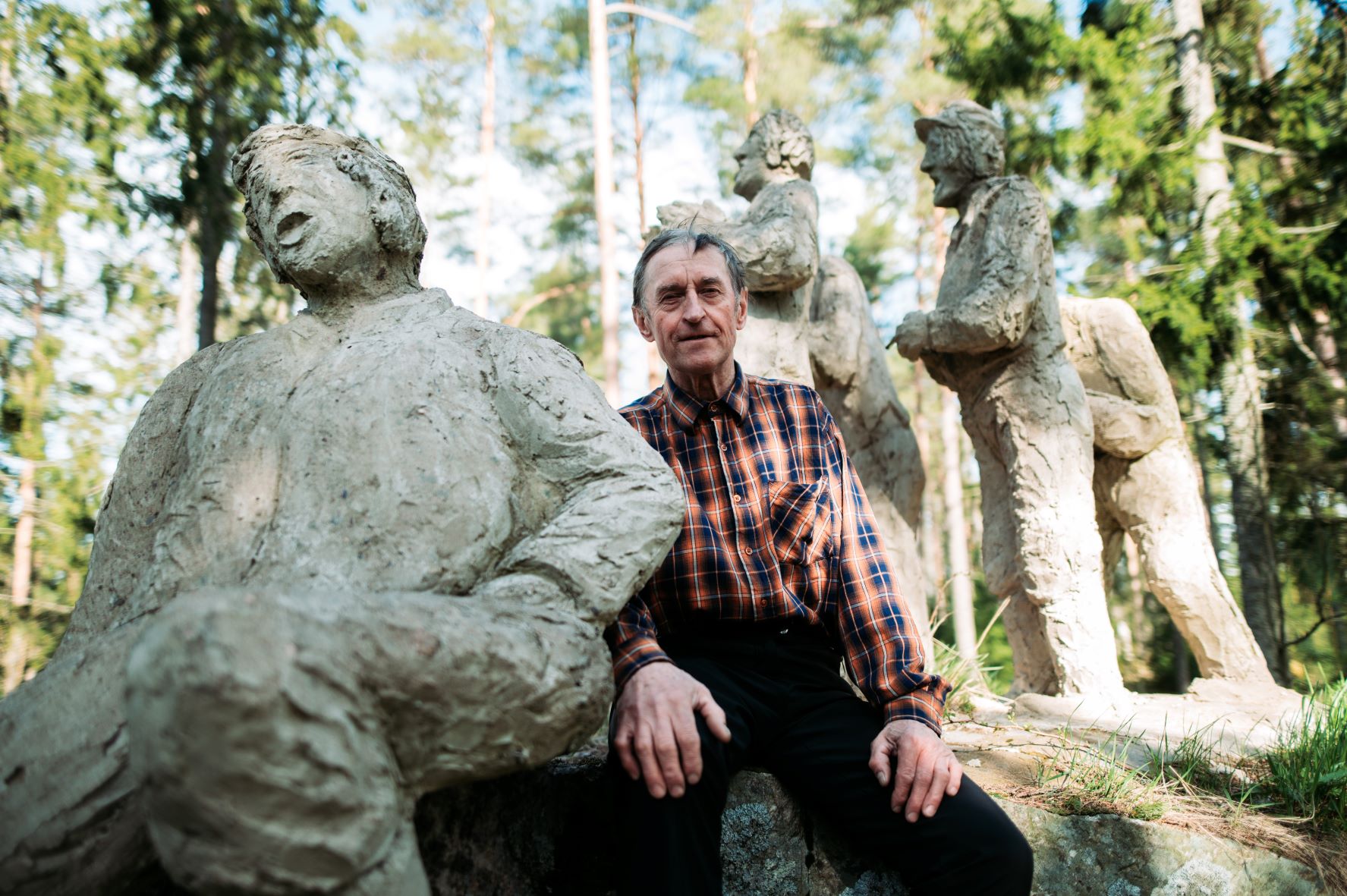 Through the years Arto has made 1500 wooden carvings. Lately when there has not been that much custom work, he has started to work on a chapel where the walls are covered in wooden carvings depicting different religious themes. Wood as a material fascinates Arto, it is fragile and you have to be precise and plan a head, you can not fix it just like that when something goes wrong. He has made portraits of all the Finnish presidents for Marttila municipality.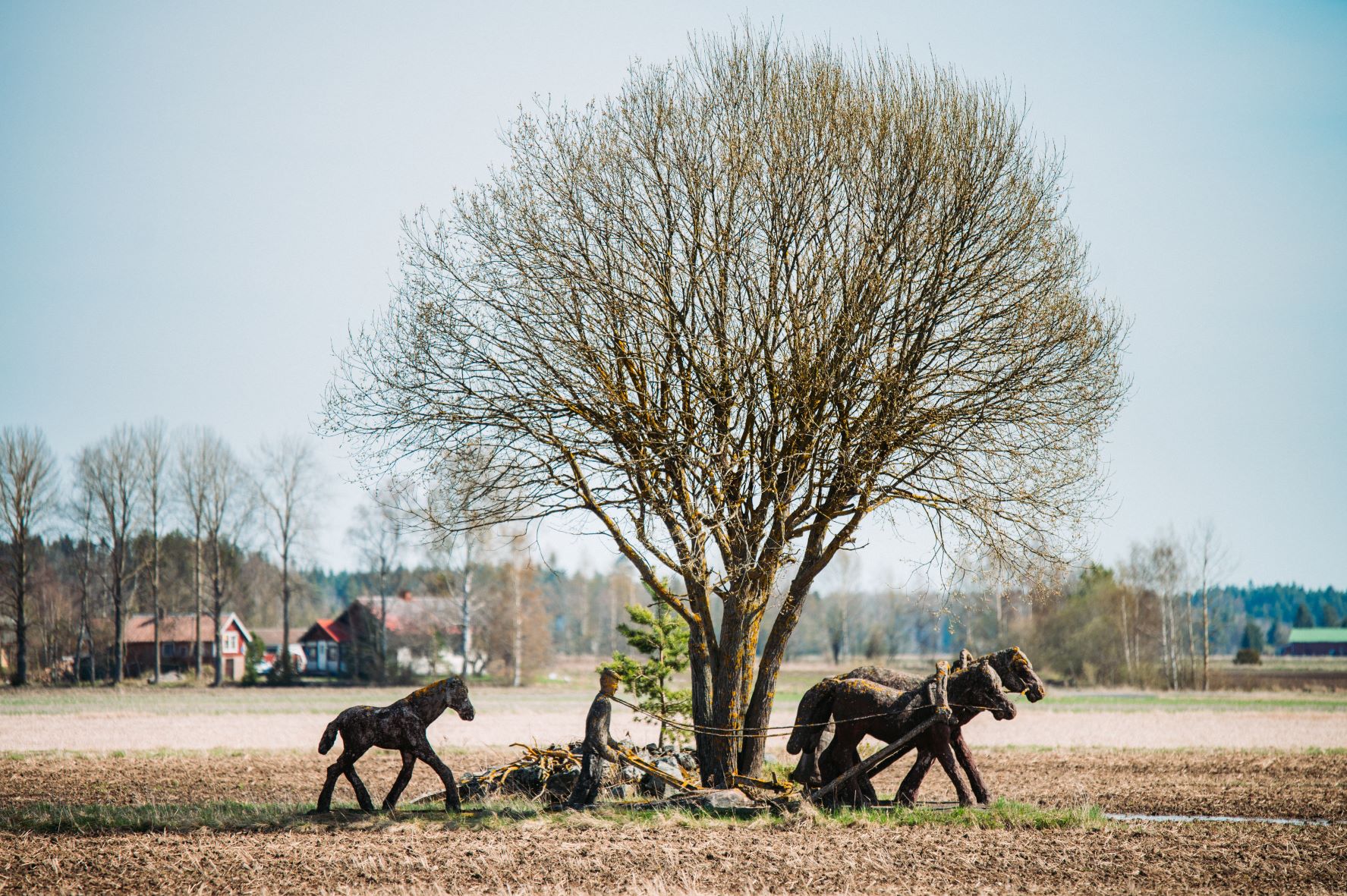 The idea for the sculpture park came about in the 1980's and it's foremost the lack of a suitable piece of land that has withheld the project for this long. In 2013 Arto acquired a piece of land near his studio and since 2014 he has regularly made sculptures for the park; there are now nearly 90 pieces and his goal is to have 100 sculptures out in the park. He gets his inspiration from the Finnish nature, traditions, and literature but there is also a set of sculptures inspired by the mystical sculptures on Easter Island. He states nature as the most important source of inspiration, and sculptures of animals are close to his heart and more interesting to make than sculptures of humans. He has made sculptures of cranes, elks, horses and deer – all in natural size.
Arto Ali-Eskola has also made a name for him self as a weather prophet. He sees the connection to nature and the surrounding world as a important tools for the prophet, and also sees the benefits of these traits in the process of creating art. Arto says it requires a certain sensitivity to successfully predict the weather and says the same thing is needed when creating a soul for the art. He feels as if people today are too distracted and have become alienated from nature and forgot how to be sensitive towards it.
During Konstrundan the visitors get to visit the sculpture park and get to know his techniques.
Text: Veronica Svenskberg
Foto: Jussi Virkkumaa