Antti Nieminen, Taipalsaari
Antti has always known, that he wants to work in the creative field. By a chance he chose metals. His great hunger for knowledge has directed his studies. He has examinations in blacksmithing, goldsmithing as well as visual arts and he can work in all metals. In the autumn 2021 Antti will take the master exam in blacksmithing in Karjaa.
"I want to know the metals as well as possible and want to master how to work with different metals. You can say that I have fallen in love with all metals and not just one".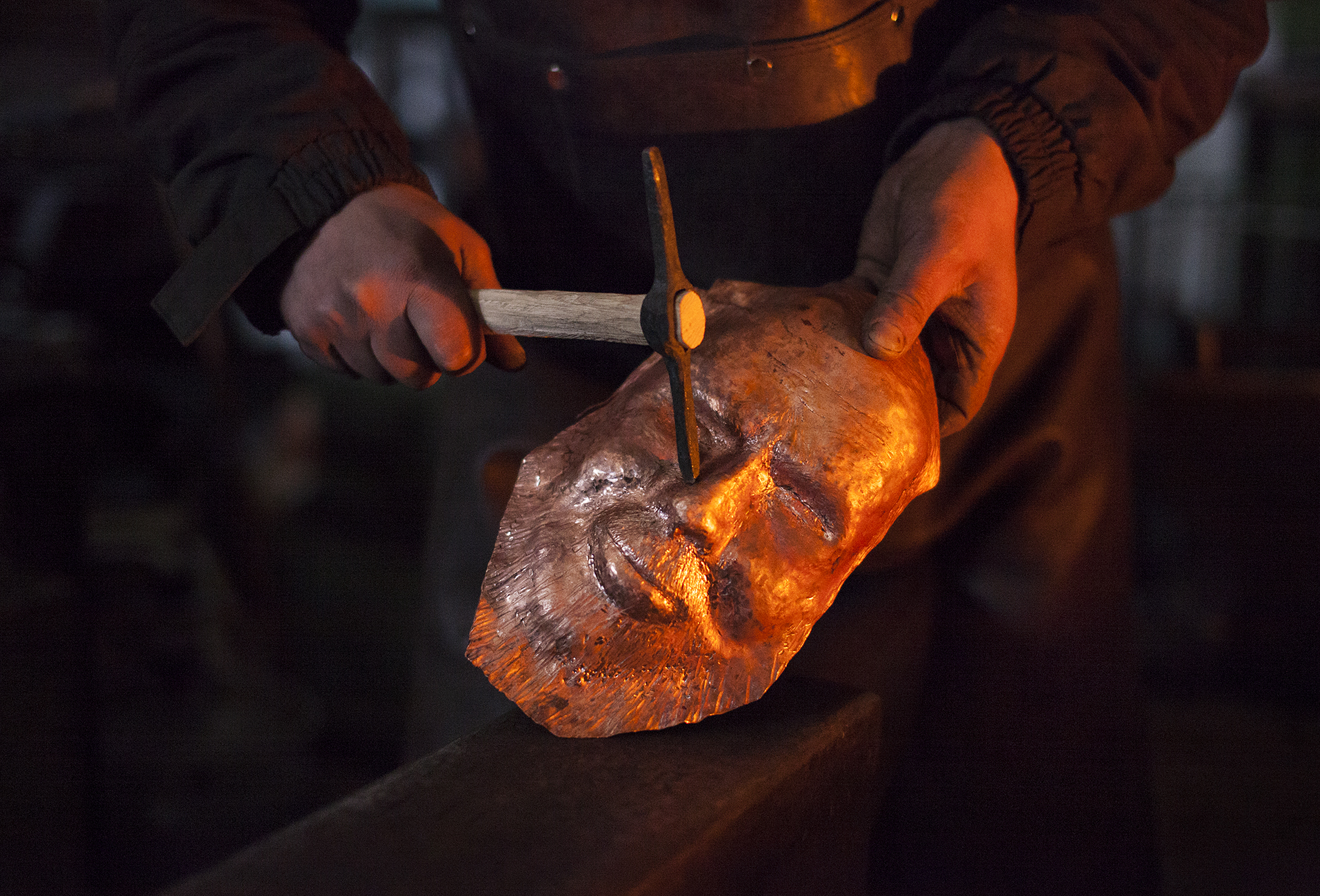 Antti possesses the professional skills of a blacksmith, goldsmith and visual artist and in his work, he uses all metals and precious metals. A great part of his work consists of commissions and orders, both by public and private customers. The covid pandemic has reduced approximately 90 % of all the private orders, but luckily he has had many public commissions. Last spring, he finished new information boards and benches to the Svinhufvud home museum in Kotkaniemi.
Antti prefers to work with commissions that have a special meaning to the customer or the receiver of the gift. Each commission is based on a discussion with the customer and through that Antti can take part in the emotional experiences and expectations of his customer. For example, when making a gravestone Antti can support the mourning process or when making wedding rings, he takes part in celebrating love. Antti seeks to involve the hopes and values of the receiver in the result. The final result is of course affected by how much the customer is willing to pay, but when the price is set from the start, it gives a clear frame for the work.
In addition to making orders for customers Antti also restores and repairs metallic sculptures and antique objects.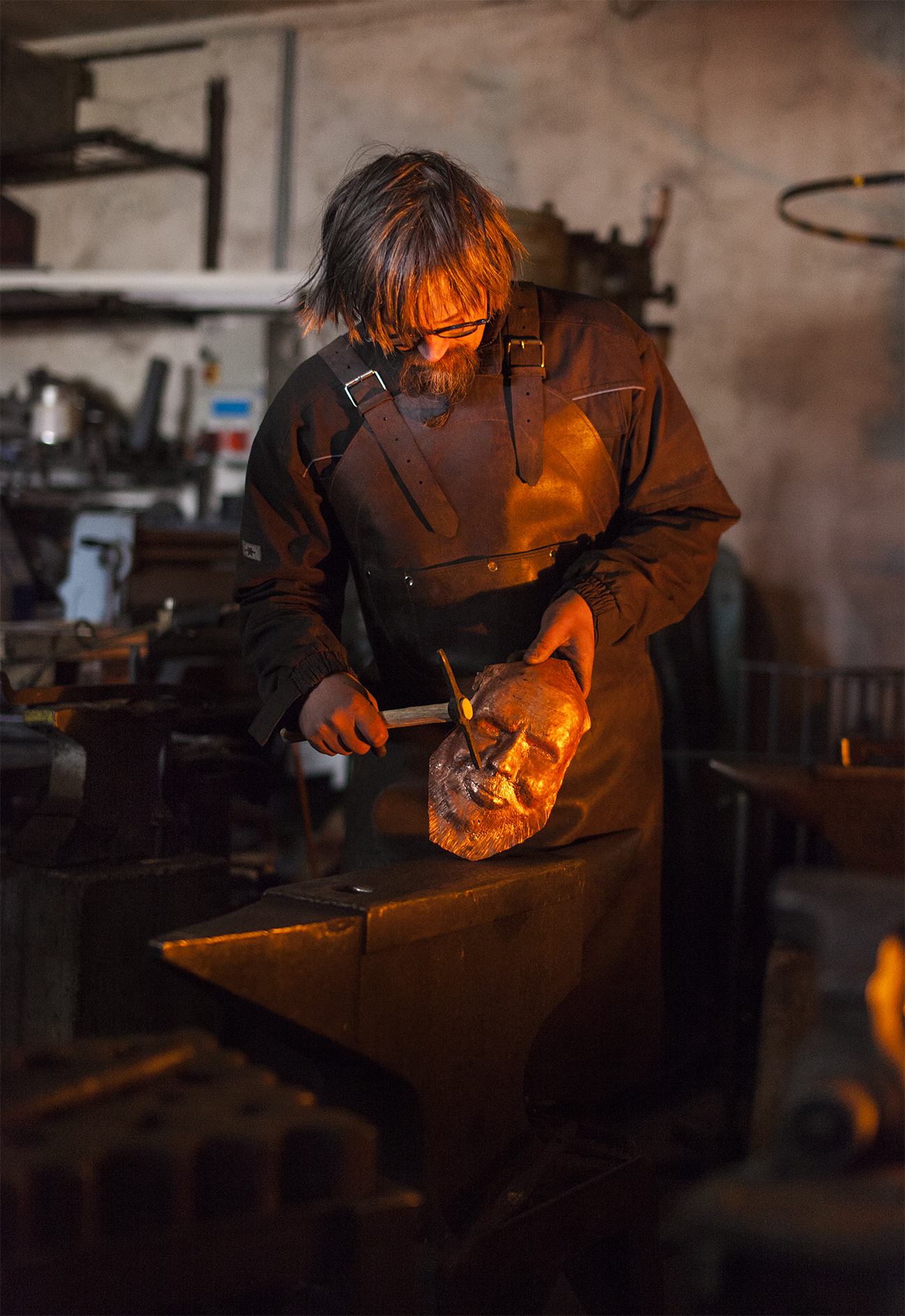 When possible, Antti strives to create freely. The metal forms his thought to a piece of jewellery or a sculpture and sometimes into an installation. This creative work helps to keep him sane.
The best thing in his work is a flow state, which occurs every now and then. When it happens, the work progresses by itself and starts to communicate in a way. Skill, thought and working process are in complete balance. Antti reaches this flow state a few times a week, but he also sees bad days as equally important to support his development. Antti thinks that the biggest challenges in his work are both physical and emotional strength. Both need to be maintained actively.
Antti often takes part in exhibitions, because he thinks that is a good way to market his work. Every now and then he gets an order, often with delay. Economically, exhibitions are seldom profitable, but an exhibition always gives a deadline for creating something new.
Teaching and education
Earlier Antti was working as a teacher in addition to his own work. He thinks that teaching is an obligation for everyone who has the knowledge and skill. The best thing with teaching is that you learn a lot about yourself in the process. Antti left teaching due to lack of time and also because of the stricter conditions for teachers in general.
After a sick leave a few years ago, Antti decided he would concentrate on creating freely and making commissions. But in a way he is still teaching, as he has an apprentice in the forge. Matias Moilanen is studying blacksmithing and helps out with the work. Antti and Matias work well together and a great advantage is, that Antti is not alone in the forge. Customers come by every now and then, but there might be many days without any visitors.
The crafts education in Finland has gone through many changes lately, most of them have made studying and learning harder. There are not enough lessons or materials and it seems less focus is on teaching the profession itself. Often the education lacks information about how one should function in one's business. When starting up a business, many have been surprised about how much marketing, selling and networking skills you need in addition to the making and creating.
Networking is very important according to Antti. Few understand what it really means – and how wide your network should be and how you get the most out of it.
Antti sees Konstrundan as an important marketing event, it is free of charge and easy for the participant and gives you many new contacts. You just need the courage to go along!
"You never know what you find behind a door. First you need to find the door, then you need the courage to open it and further to look what's behind it", Antti summarizes.
This year Antti is participating in Konstrundan for the second time. Last year he had almost 400 visitors, when his village's summer market was held at the same time at the yard outside the foundry. This year there's also a lot happening in the foundry in Rehula: work demonstrations, a local food market and a café run by the smith's children. Antti is looking forward to a lively day and is trying to plan the day so that he will have time for discussions with the visitors.
Text: Martina Lindberg
Foto: Mimosa Elo