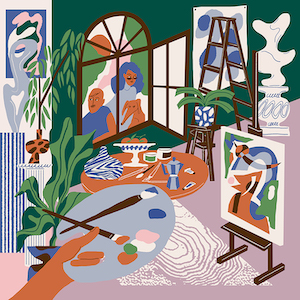 Konstrundan is an event that has been arranged in Finland since 2008. In 2020 Konstrundan had close to 300 participants from Hanko in the south to Inari in the north and from Lappeenranta in the east to Eckerö in the west.
The participants are all professionals in the fields of art, craft and design. During the Konstrundan weekend they open the doors to their studios for the public. The central goal is to create meetings and interesting conversations between the creative actors and the visitors.
The nice illustration for 2020 was made by Linn Henrichsson.
In 2021, Konstrundan is arranged during the first weekend of September, 4-5.9.2021.